Here are some good lessons for Project Managers from a very good conference.
Thank you to the organizers of the PW*BAW Conference in Toronto, Canada, June 4-7, 2018. Great event! Great speakers! Super venue and food!
I was able to attend two sessions the first day, and three the second day. Here are what I think could be valuable gems for you on your projects from the first day (I will cover the second day in the next blog post)
Day 1, 1st speaker: Neil Peterson; topic: Agile Mindset ("Raiding for Agile Gold")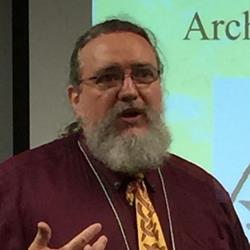 Neil Peterson is a very interesting speaker. How often do you get a lesson on project management from an archeologist! And one who specializes in Vikings to boot!
Actually Neil is an amateur archeologist. His professional role is Engineering Manager for the Waterloo Index Exchange team. Neil's main theme was on how to gradually introduce Agile principles to Waterfall projects.
5 Key Take-Aways for Project Managers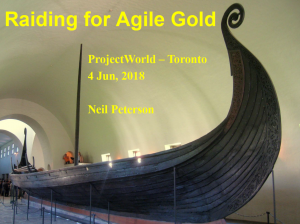 I am all about "Change Management by Stealth", so really bought into his approach. But you know what? Even is your project does not convert to Agile, these principles will help make your project better. What are they? Here are some key questions to ask yourself as project manager: Can you…
shorten your feedback and approval cycle through involving key stakeholders early (e.g., QA) and arranging interim demos (or reviewing earlier drafts)?
share feedback between the teams right from the start to shorten the feedback loop?
include your customer/product owner in more frequent interactions to make customer feedback quicker (example: collocate team in your customer's area)?
get sign offs on features in small chunks through continuous testing, rather than building the big kahuna (my words) at the end?
shorten the documentation time by using bullet points, rather than prose in lengthy paragraphs? This may take more time preparing, but pays off in the end ("If I had more time I would have written a shorter letter" – Blaise Pascal).
Day 1, 2nd speaker: Jimmy Godard; topic: Big Data impact ("Big data and project management – There is a point!")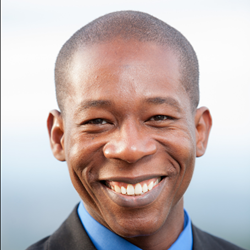 The subject was topical and interesting, but it was the speaker that made it riveting! Jimmy Godard has a highly engaging presentation style that belies his extensive experience and position. Jimmy is the Senior Service Delivery Manager at the Bank of America in Portland, Oregon and a doctoral student. I expected a staid, academic treatise, and instead found myself in a highly entertaining and engaging almost mini-workshop.
And considering the complexity of the topic, Jimmy actually was able to make sense of it and help us in the room understand the subject.
Walking in, I felt that "Big Data" was vague and scary, but Jimmy simplified it and made it understandable and…scary! Yes, companies will have to undergo a major mindset shift, from the top down, to integrate all elements of this cultural shift.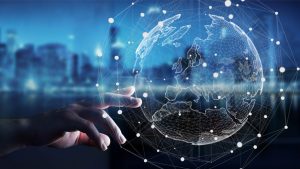 Just for reference, what is "Big Data"? Basically any and all of the following that all of us keep hearing about: Internet of Things (IOT), Artificial Intelligence (AI), Machine Learning, Deep Learning, Augmented Reality (AR), Virtual Reality (VR), Cybersecurity and the ever growing presence of Chatbots.
Big Data sounds like the next big fad, and perhaps it is, but that does not mean there won't be a project with this as a theme. What if you are one of the project managers who is put in charge of such a project?
Key Take-Aways for Project Managers
The biggest insight the audience had was this would be no standard project. This will have mindset change at its core. As such you will need to start with getting your Executive Sponsors on board before you engage your core project team fully.
That's hard to start with. So what's the best approach? Luckily for us Jimmy has some experience he shared from his work at Bank of America. Of the three main options, "Total Replacement" (also sometimes known as the Big Bang approach), "Hybrid" (or gradual) transformation, and "Standalone" projects, he found the last was the most implementable.
Being a co-conspirator by believing in the "Change Management by Stealth" approach, Jimmy has been effective in engaging the senior management at the Bank of America through small, bite-sized exposure to this very large subject. As PM, you may want to consider that as an option as well.
The Keynotes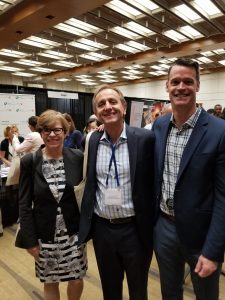 Finally, there were the keynote speakers that kicked off the first day, Mark Tewksbury and Debbie Muir. I could listen to Mark anytime. Debbie is a profound and thought-provoking speaker. But Mark is inspirational, and not just because he is a gold medal winner for backstroke in the 1992 Barcelona Olympics.
People may not remember this, but he faced initial challenges when he entered the professional speaking career. I remember reading an article about how some corporations initially rejected Mark as a speaker because he was "too gay".
I remember feeling stunned when I read this. Here is a national hero and inspiration, someone we should all feel proud of, and that mattered not. Instead his sexual orientation became the deal-breaker. Really? Wow.
It is a testament to that same determination that won him his medal for Canada that also kept him on his path as motivational speaker. And that's what fortunately for us all, allowed us the opportunity to hear him speak this week. When I have to stress the importance of perseverance to my kids, it's Mark and his determination that is used as a model.
Stay tuned to the next blog and additional learnings from the conference.
---
Let us know what you think! Contact us at – letstalk@hadaspartnersinc.com