Complex Business
Transformations…
Simplified.
Everything You Need to Reach the Next Level
When you need a Partner for your Transformation, we're here for you.
Every organizaton reaches a point where where incremental improvements are no longer sufficient. A time comes when a business transformation is required for survival or growth.
Whether you are realigning your business operations, introducing new technology, or implementing a new business strategy, organizational change management should be a core component of your transformation plan.
Hadas Partners is a boutique consultancy based in Canada, focusing on all aspects of Business Transformation and Organizational Change Management (OCM).
Executive Change Leadership Coaching
Coaching for business sponsors leading business transformation projects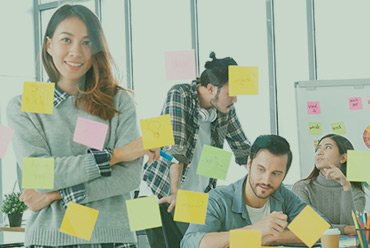 Business Revitalization Bootcamp
Your road map to future-proof your growing small to mid-sized company

"Your personal approach has been pivotal in bringing this initiative to life – you have successfully engaged with a cross section of the management team and through careful intervention helped steer them towards a new paradigm of thinking. Even the most skeptical amongst the leadership group have become ardent supporters of the benefit that a good change management program can bring."
SVP Business Optimization, Energy Company
Our change management approach has been tested for over 25 years. We have consistently delivered solid business results and high client satisfaction.
Our Client List:
Calgary Airport Authority
Saskwater
Pricewaterhouse Coopers
Ontario Power Generation
Inergi
Walmart
Direct Energy
Diageo
Canadian Tire
Cooperators
Ontario Ministry of Health and Long Term Care
"Seasoned veteran of change management – I value the fact that you have been involved in so many change projects and consequently can spot land mines and recommend the right course of action.  You have enabled us to deal well with many new requirements at the program level.  You always share your knowledge and time generously – even when competing demands make this challenging."
HR Director, National Retailer
Everything You Need to Reach the Next Level
When you need a Partner for your Transformation, we're here for you.